Introducing: PERCH
Our new approach to tool organization is simple. Customizable racking systems that conform perfectly to your tools and to your workspace. We believe tool storage should be easy so you can work hard on the more important things.
First of it's Kind
Organize, transport and protect your tools with PERCH, a tool organizer that works with your tools, regardless of size, shape or manufacturer!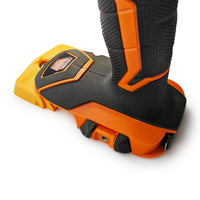 Perfect Fit
Patent Pending polymer inserts 'Snap' into your tools for a secure fit.
Built for builders, by builders
• Laser cut 304 Stainless construction safe for all work environments.
• Keyhole mounting slots and handles allow you to bring PERCH wherever you work.
• Work slots between terminals rack your tools when still in use.
•Tig welded corner braces support upto 150 lbs of tools!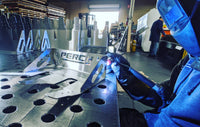 Keep your workspace clean

Organize your tools however you prefer
Modular design

Mix and match inserts according to what brands and tools you use
Customize to your own workspace

Buy standalone inserts and construct your own rack
Build your own

Open source DIY downloads
Keep your workspace clean
Organize your tools however you prefer
Modular design
Mix and match inserts according to what brands and tools you use
Customize to your own workspace
Buy standalone inserts and construct your own rack
Build your own
Open source DIY downloads