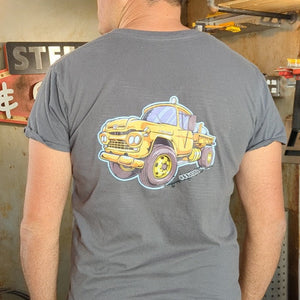 The F600 Salvage V neck Tees are a unique product that is not only stylish but also supports a worthy cause. These tees are hand pressed, ensuring each one is made with care and precision. The F600 Salvage Tees are made from high-quality materials that are soft and comfortable to wear. The tees feature a V-neck design, which adds a touch of elegance to the classic t-shirt look. The slim-fit design ensures that it is very suitable for casual wear. But what sets these tees apart is the cause they support. All proceeds from the sale of these tees will go towards restoring the F600 and creating content about it. The F600 is a significant piece of machinery that needs restoration to keep its legacy alive. By purchasing these tees, you are not only supporting a noble cause but also adding a unique piece to your wardrobe. Whether you wear it to a casual outing or a day out in the sun, the F600 Salvage V-neck Tees are versatile and perfect for any occasion. Show your support for the restoration of the F600 while also looking stylish and feeling comfortable. Join us in our mission to restore the F600 and keep its legacy alive by purchasing the F600 Salvage V neck Tees. Every purchase counts and your support is much appreciated. Send it!

HAND-PRESSED:
The F600 Salvage V-neck Tees are hand-pressed, ensuring that every shirt is made with precision and care. This process ensures that each shirt is unique and of the highest quality.

HIGH-QUALITY MATERIALS:
The tees are made with high-quality materials that are soft, comfortable, and durable. The fabric used is a blend of cotton and polyester, making it breathable and long-lasting.

STYLISH DESIGN:
The F600 Salvage V-neck Tees feature a stylish design with the F600 logo printed on the front. The V-neck style adds a touch of sophistication to the tee, making it suitable for casual wear or dressing up.

MACHINE WASHABLE:
The tees are easy to care for and can be machine washed. They should be washed in cold water and tumble-dried on low heat for best results.


FEATURES:

Hand-pressed design
Made of comfortable, high-quality fabric
Features the Salvage brand logo on the front
Designed for a slim, modern fit
Perfect for casual wear or layering under jackets and sweaters